Watch BBC Match of the Day 2 Highlights
Match of the Day MOTD 2 03/12/2023
Join Mark Chapman and guests for action and analysis of the day's five Premier League games, headlined by the mouthwatering clash between Manchester City and a revitalised Spurs.
Under new manager Ange Postecoglou, Tottenham have made their best start to a season since they last won the league title in 1960/61. They have also defeated reigning top-flight champions Manchester City in three of the past four meetings, although Pep Guardiola's side fought back from 2-0 down at half time to beat Spurs 4-2 at the Etihad Stadium in January.
Elsewhere, Liverpool host Fulham, Chelsea face Brighton, West Ham and Crystal Palace meet in a London derby, and Aston Villa make the trip to Bournemouth.
You can also see every goal from Saturday's Premier League fixtures and vote for your goal of the month for November.
Match of the Day MOTD 2 – 26/11/2023
Mark Chapman introduces highlights from the day's two Premier League matches, in which Tottenham hosted Aston Villa, and Manchester United visited Everton.
Both Spurs and Villa have made bright starts to the season, with the visitors to north London hoping for a repeat of their 2-0 victory at Tottenham in January.
Manchester United won all three times they faced Everton in the last campaign and will be looking for another three points against the Toffees, who have struggled to get their 2023/24 season firing.
When is Match of the Day 2 on?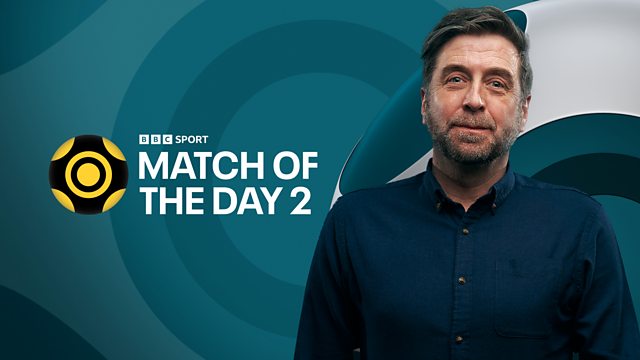 Match of the Day 2 is on Sunday evenings at 10:30 pm on BBC One. It is a Premier League football highlights program that features highlights from the day's matches, analysis, and interviews.
Please note that on rare occasions, Match of the Day 2 may be moved to BBC Two or have its broadcast time changed to make way for other sporting events.
Is Match of the Day 2 available on BBC iPlayer?
Yes. Match of the Day 2 will be available for live streaming on BBC iPlayer. It will now be available on iPlayer shortly after midnight on the day of the broadcast.